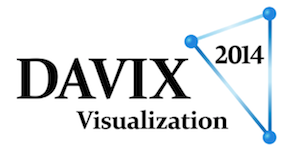 RELEASED October 2014!
DAVIX, a live CD for data analysis and visualization, brings the most important free tools for data processing and
visualization
to your desk. Avoid the hassle of installing an operating system or struggling to build and compile the necessary tools to get started with visualization. You can completely dedicate your time to data analysis.
DAVIX 2014 is based on an Ubuntu Server Version 14.04 base image. It is currently only distributed as a VMWare Image. You will therefore need a player to run a Version 9 Virtual Image (either
VMPlayer
newer than version 5.0 or VMWare Workstation newer than 9.0).
You can also find all the installation scripts on
github
. These scripts allow you to install DAVIX on a fresh Ubuntu 14.04 Server machine. Or if you wish, you can run the scripts on your existing Ubuntu installation. Be careful though, script number four will harden your machine and remove certain packages, etc. Don't run that on your Desktop.
Download