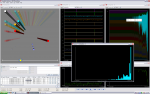 Equilibrium Networks' visual network traffic monitoring software (for background information, see http://www.eqnets.com) has successfully passed our internal tests, so we are packaging a Linux-oriented beta distribution that is planned for snail-mailing (no downloads--sorry, but export regulations still apply) on a limited basis before the end of the month. The beta includes premium features that will not be available with our planned free/open-source distribution later this year, but at this early stage we will be happy to provide a special license free of charge to a limited number of qualifying US organizations.
Participants in our beta program will be expected to provide timely and useful feedback on the software, e.g.
• filling perceived gaps in documentation
• proposing and/or implementing improvements
• making feature requests or providing constructive criticism
• providing testimonial blurbs or case studies
• etc.
The software should be able to run in its entirety on a dedicated x86 workstation with four or more cores and a network tap (though you may prefer to try out distributed hardware configurations). If your organization is interested in participating in our beta program, please include a sentence or two describing your anticipated use of this visual network traffic monitoring software along with your organizational background, POC and a physical address in an email to beta [at (same domain name as our website)]. DVDs will only be mailed once you've accepted the EULA. Finally, bear in mind that beta slots are limited.