Very cool idea here with this site. Unfortunately I can't see the data in any of the graphs thus far submitted because they are too low resolution. They look cool, and possibly useful -- I'd love to look into them more closely.
Any chance of (much) higher resolution images??
cheers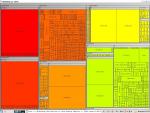 This time we did not use a line graph to visualize a firewall log file, but a treemap. The picture was generated with AfterGlow 2.0. The hierachy used is: Source Address | Target Port | Target Address and the coloring is based on the Source Address.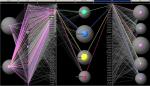 This graph was generated with a commercial tool from Advizor. it's a simple parallel coordinate view of a firewall log file.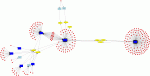 This graph was generated from a firewall log using AfterGlow. The properties file used was the following:

label.source=0
color.event="blue" if ($fields[1] > 1024)
color.event="lightblue"
color.target="yellow"
color="red3"

This page is meant to help collect parsers for log files. Post a comment with either a link to your parser or past the parser in here if it is not too big.
A new release of AfterGlow, Version 1.5.8, is due soon. A few new functions are included, among them a snort alert file parser. The tool can be downloaded at: http://afterglow.sourceforge.net