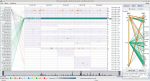 http://tnv.sourceforge.net/ only a portion of the data was given to Gephi
LAN Traffic as seen from a workstation visualized using afterglow and Gephi. To get GDF format file for Gephi use the -k parameter with Afterglow. Thanks Raffy.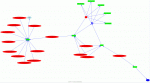 I guess tcpdump version 4.6.1 is not compatible with tcpdump2csv.pl hence I got only IPV6 traffic parsed to afterglow.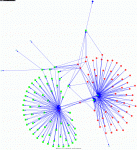 A view of IPV4 LAN traffic as seen from one of the servers made with tcpdump and pcap using afterglow
The first module of the Visual Analytics Workshop is about Data Sources.
As a foundation for later visualizations, we need to first understand what the data means. Following are the links of tools and additional material we are going through: (Note that the links might not cover all of the tools in this module. They are merely all the links that show up on the slides.)
Find the previous list of links at the first link collection post.
Wanna know more about the visualization workshop? Email me or visit http://pixlcloud.com/training